DOG GROOMING IN WICHITA & LEAWOOD

Sydney's Pet Resort takes great care and pleasure in providing the most spectacular professional grooming services for your pets. The community has recognized our unparalleled dedication, choosing us for the Wichita Eagle's Reader's Choice Favorite Grooming Award. Consider using our pick-up/drop-off service before and after your visit!
25% OFF THEIR FIRST GROOM!
First-time clients only and one per family. Subject to availability and cannot be used over Holidays. Offers cannot be combined.
REQUEST RESERVATIONS ONLINE
A cute haircut is nice, but the health benefits of a professional grooming are even more important.
It's the safe way to look handsome! Proper grooming is more than a brush and clip, and groomers are highly trained to beautify your dog without causing discomfort. If you attempt to groom your dog at home, you could accidentally leave scratches or irritate the skin. Plus, as a groomer works, they screen your dog's feet and skin for abnormalities.
Nail maintenance matters. A dog's nails grow naturally and need to be trimmed about once a month. Left alone, overgrown nails can disrupt your dog's posture and foot structure while causing discomfort. A professional groomer knows exactly how much to cut and helps your dog cooperate, which greatly reduces the likelihood of cutting too short.
Reduces shedding. The coat you like to pet is just one of multiple layers of hair your dog has, depending on their breed. Some dogs have two or three kinds of fur, which ordinary brushing won't reach. A groomer's professional tools loosen up hair in these deep layers, reducing shedding and leaving your dog with a lighter, more comfortable coat.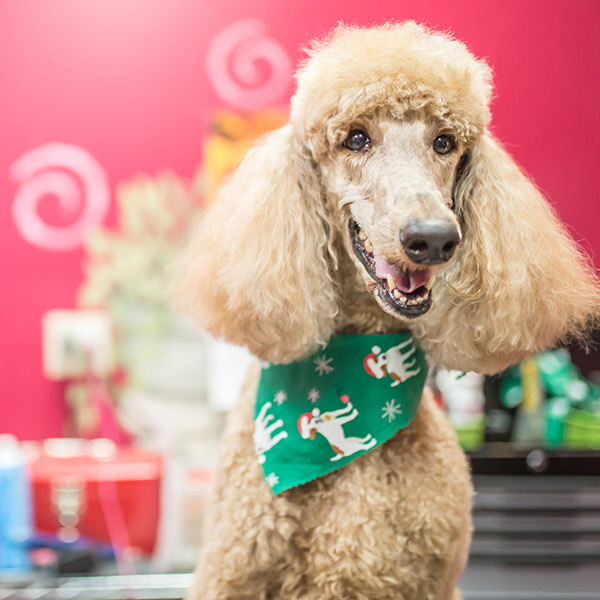 The award-winning groomers at Sydney's Pet Resort will leave your pet looking and feeling like royalty. We offer a full menu of grooming services in addition to our regular grooming packages, which include:
Complete Groom. Includes Hydro-Surge bath, full body haircut, nail trim, anal glands, ear & eye cleaning, bow or bandana and cologne.
Basic Groom. Includes Hydro-Surge bath, face/feet/sanitary trim, nail trim, ear cleaning, anal glands, bow or bandana and cologne.
Board Bath. Treat your dog to a Hydro-Surge bath during their stay.
At the end of your grooming, your dog will come home wearing a bow or bandana and a splash of our Sydney's Unleashed doggie cologne.
Prices vary by breed. All dogs must be at least 12 weeks old to receive spa services at Sydney's Pet Resort & Spa.
Bath & Nail Trims
Small $35
Medium $40
Large $45
Giant $50
Specialty shampoo for
Small dogs $4
Medium $5
Large $6
Giant $7
Added Deshed $5+, Deshed Combo $32, Deskunk $20+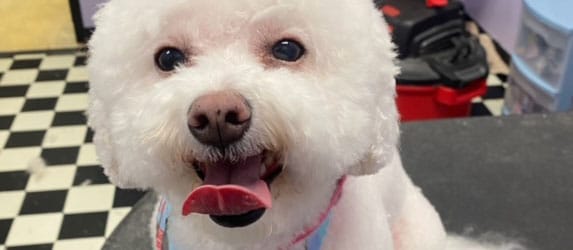 Dogs enjoy the royal treatment in our grooming salon. With top-shelf grooming equipment and products, our loving and experienced spa staff will provide premium service in a relaxing way.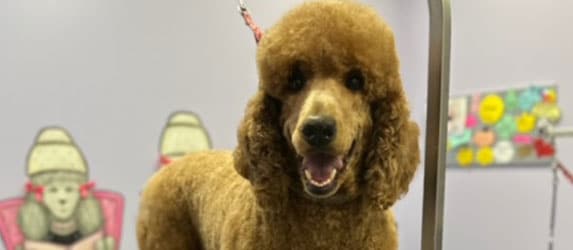 Inside Leawood's Sydney's Pet Spa is a state-of-the-art grooming parlor designed just like a human hair salon. Cheerful checkered tiles lend a retro feel while our devoted grooming team beautifies and pampers your pup.
Hydro-Surge technology offers a relaxing experience that massages your pet's skin while it washes, and we use only the safest and most effective pet products.
Most of our grooming services can be chosen and combined a-la-carte, but here are some extra special treatments:
Nail Trim
Nail Grind
Blueberry Facial
Ear Cleaning
Ear Plucking
Anal Glands
Fluff & Spritz
Deshed
Dematting
Breath Freshener